Textile printer / DTG printer
"Direct to garment" (or DTG) textile print became widely available on the commercial market in the mid-2000s and is simply an emerging technique for decorating garments.
Unlike traditional labor-intensive processes such as screen printing, DTG technology uses inkjet printing and sends a detailed design in full color directly from a computer to a digital printer loaded with a garment. The design is then printed directly on the garment. The ink used is water-based, environmentally friendly ink that is specially made to attach to fabric during heat curing. DTG technology makes it easy to create high quality printed garments without the need for many years of experience in printing.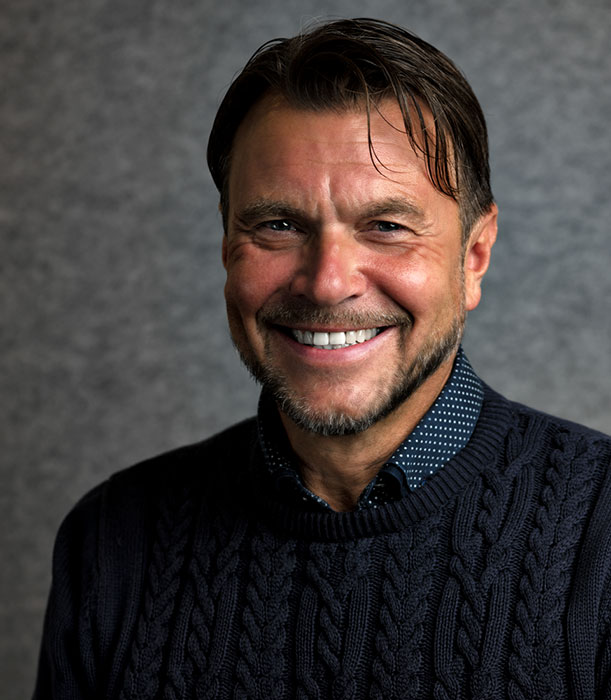 Richard Carlsson
Sales
Sales embroidery, textile print
Perry Sandell
Business area manager
Do more with DTG textile print
DTG textile printing technology replaces expensive labour costs and long-term skills training. With DTG textile print, a single person can take an order, print out the items, prepare everything for delivery and then quickly move on to the next job.
Other advantages:
Unlimited color options and design reproduction
Efficient short or single runs
Quick and easy printing
Faster production and faster response to market trends
Seamless printing over zippers and other difficult garments
Easier installation and less space requirements
How do you do that?
Step 1 – Pre-treat and dry/harden the garment
Pre-treatment shall be applied when printing in white paint, apply before printing manually or using an automatic machine, then dry/harden using a transfer press according to the manufacturer's instructions.
Step 2 - Prepare the digital design
Load your design into a graphics program and adjust the image before sending the file to the textile printer. With our new graphics program GTX Graphics Lab Software, you can place the image, add text, layers, and make other adjustments to the image before sending the file for printing.
Step 3 - Printing on the garment
Dress the plate with the desired garment or material and press print.
Step 4 – Fix the print on the garment
The pressure is fixed separately in a heat press/transfer press or heating oven. This ensures that the garment will have the desired washability.
GT-3 Series
Put color on life!
The Brother GT-3 series is a textile printer for printing on both light and dark materials. The Brother GT-3 series has a fully integrated printing system. All important parts such as hardware, software and print heads are original manufactured by Brother. This makes it very competitive.
The most unique thing about this textile printer is that it is upgradeable. For example, if you have a start-up or a smaller production, start with the simpler model that prints on white and light garments. When your company is ready to expand, expand to the next step and can also print on dark garments. If you then need a machine that can handle even more, upgrade to the most advanced model with a whopping 4 print heads for white color. With En-Pass technology, you will be amazed at how this model handles big runs.
En-Pass Technology
Save time by printing white at the bottom and color at the same time instead of white bottom and color itself.
Efficient and easy to use
Plug and Play. No RIP required. Our printers have their own printer driver, it allows you to work without RIP software. All GT-3 models are equipped with a USB port, no computer connection needed. Print directly from your USB device.
Download the GT "Cookbook" with useful and important information about the pre-treatment, printing and drying of garments.
In the Webshop you will find accessories and consumables for these machines.
Education
The training may look like this:
Elementary mechanical engineering with function and service/maintenance instructions
Instructions on how different garments, garment parts, caps, shoes, etc. are prepared and assembled in the machine.
Basic training in software for easier image processing
The training takes place at our premises in Borås. Course material, daily coffee and lunch are included.
Service & Support
We perform total service on Brother textile printers. We have a nationwide service!
It is also possible to send the printer to us for repair or service.
Welcome to contact us!