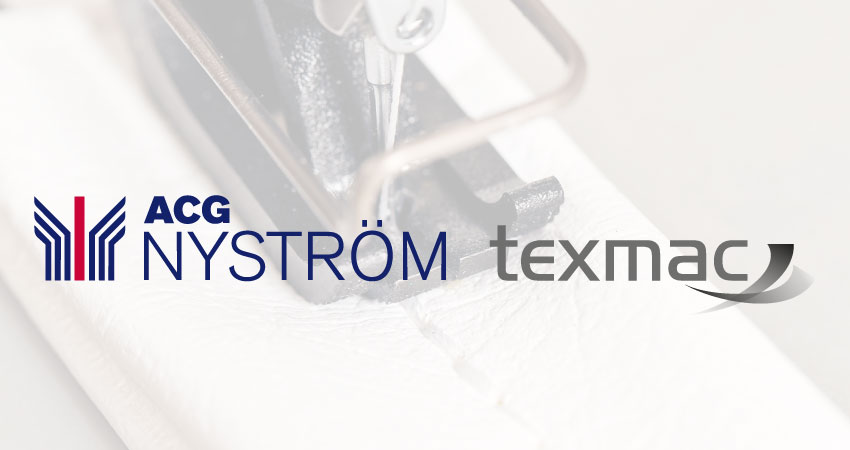 ACG Nyström AB acquires Texmac AB!
The circle is complete
ACG Nyström AB has acquired Texmac AB and will become the owner of Texmac AB on September 1, 2022,
Both Lars Gustafsson and Claes Bengtsson will continue to work for ACG Nyström. Initially, Lars and Claes will remain in Gällstad and within six months they will be stationed at the head office in Borås.
Lars Gustafsson and Claes Bengtsson have both previously been employed by ACG Nyström, Lars started working at ACG Nyström's office in Ulricehamn in 1980 and Claes in 1987. In 1990 Claes, Lars and Göran bought 48 % of the unit in Ulricehamn and in 2005 they bought the rest 52 % in the company Symaskinservice (as it was called then). In 2014 Göran Arvidsson retired, since then Lars and Claes have run the business themselves, at the same time the company changed its name to Texmac AB.
Lars Gustafsson co-owner Texmac:
– As an 18-year-old, I started at ACG Nyström and have since remained in the industry. What has driven me all these years is the fantastic development that I have been a part of as well as the contact with all customers and suppliers.
Now I am entering a new era with open eyes towards an exciting future, I look forward to continue good cooperation with customers and suppliers.
Claes Bengtsson co-owner Texmac:
– I started in the industry as a 20-year-old at the company Top Print AB in Svenljunga as a technician where I worked until 1987 when I was employed at ACG Nyström's office in Ulricehamn. I was employed there until 1990 when I helped start Symaskinservice AB. I am looking forward to joining ACG Nyström AB again and getting a bigger organization behind me.
Thomas Arvidsson CEO ACG Nyström AB:
– Lars, Claes and Göran laid the foundation for where I am today, when I was already running around among the industrial sewing machines in Ulricehamn and later in Gällstad as an 8–9-year-old. I started my career early at Symaskinservice (Texmac) and in 2014 I received an offer to start at ACG Nyström. Both Lars and Claes have a unique competence after all these years in the industry which will make us at ACG Nyström even stronger in the market. It will be extremely fun to work with Claes and Lars again.
Reimar Westerlind owner ACG Gruppen:
– This was the big gift for our 100th anniversary – to get Lars and Claes back in the company. They have knowledge, experience and will, nobody says no to that. I am very pleased and satisfied. They are welcome to ACG again.

ACG Nyström AB is an international company that markets advanced equipment, systems and knowledge to the manufacturing industry. We add value throughout the textile process, from product development, technical design and cutting to joining with sewing and other techniques as well as finishing with embroidery and textile printing. In short, we help our customers become better and more competitive in the entire textile development/production process.
In September 2020, ACG Fyrtal AB became part of ACG Nyström AB and we then expanded our range with high-quality solutions for marking, identification solutions for signs, decals and various types of hard products for both consumer and industry.
We work exclusively with world-leading brands that share our vision of offering cutting-edge technology with a service that exceeds our customers' expectations.
Texmac AB is a full-service company in the textile industry.
Our knowledge is built up over almost 40 years in the industry. We work with all existing processes in today's modern textile industry. We have customers who manufacture protective equipment, furniture, canopies, car interiors, jerseys, sails, sun protection awnings, curtains, tension straps, filters, boat canopies, leather products and beds. We also see a small increase in the manufacture of clothes again.
Our business concept is to offer the customer everything under one roof. With us you get help to find the best machines for your particular needs.